Pull basic contact information from Redtail and create clients in SmartRIA
The Redtail integration is a one way integration. It pulls in basic contact info from Redtail and creates Clients in Smart-RIA. You will need to select which contacts to bring in, using Redtail's "Status" setting. You will have the opportunity to select which contact 'statuses' to bring in when you enter your authorization details on the integrations page.
New clients will be brought in from Redtail and created in Smart RIA on the first import. Then any updates in Redtail to the basic info will be updated in Smart RIA. Any updates in Smart RIA will not flow to Redtail.
The Redtail import runs once per night.
Please note that whichever user enters their credentials is the user who will get contacts. In some cases firms have had one Redtail account for multiple advisors and that advisor ended up with all the clients for the firm when they set up the Redtail import.
Role: CCO
Using your cursor hover over your user initials in the upper right section of the screen. Select Settings from the drop-down list and then click the Integrations button.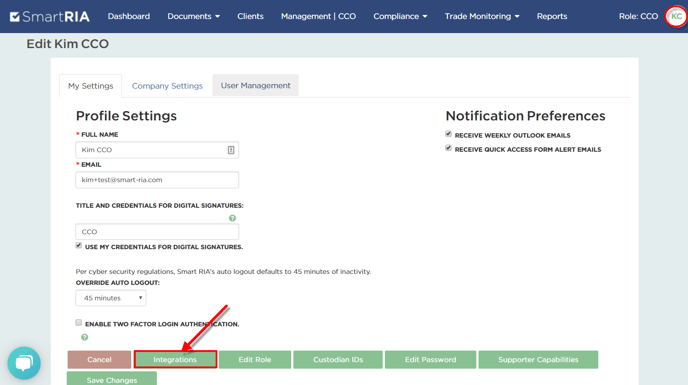 Enter the username and password and hit the Submit button.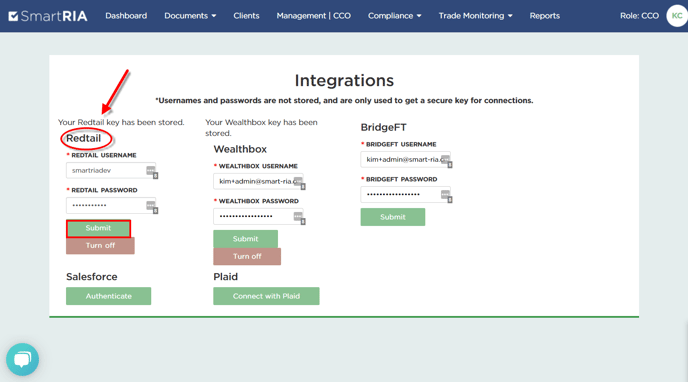 Select the Redtail status fields for import and then click the Save Redtail Settings button.
Please only select clients from the pop-up.
Your clients will be imported within 24 hours.
The information that is imported:
Tax Id
Company
User
First Name