The SmartRIA Data Governance Platform lets you quickly record vendor due diligence.
The SmartRIA Data Governance Platform lets you quickly record vendor due diligence. You can also track employee access to sensitive data and monitor incidents that impact your vendors or your company. You can also schedule tasks (like annual vendor reviews or employee attestations) using SmartRIA's Compliance Calendar.
After logging in, click on Data Governance in the top menu. The first page you see will be a list of Vendors your company is currently using.

If you don't see a vendor in this list, click the green button at the bottom that says "Search and add Vendors Products/Services".
Adding Products to your Company

On the products configuration page, you will be able to search available products by name, and drag them to your company's vendors. You can remove them from your company via drag and drop as well. One thing to note: You will need to update your linked vendors to save the changes. Click "Save Changes" under the box containing your linked vendors.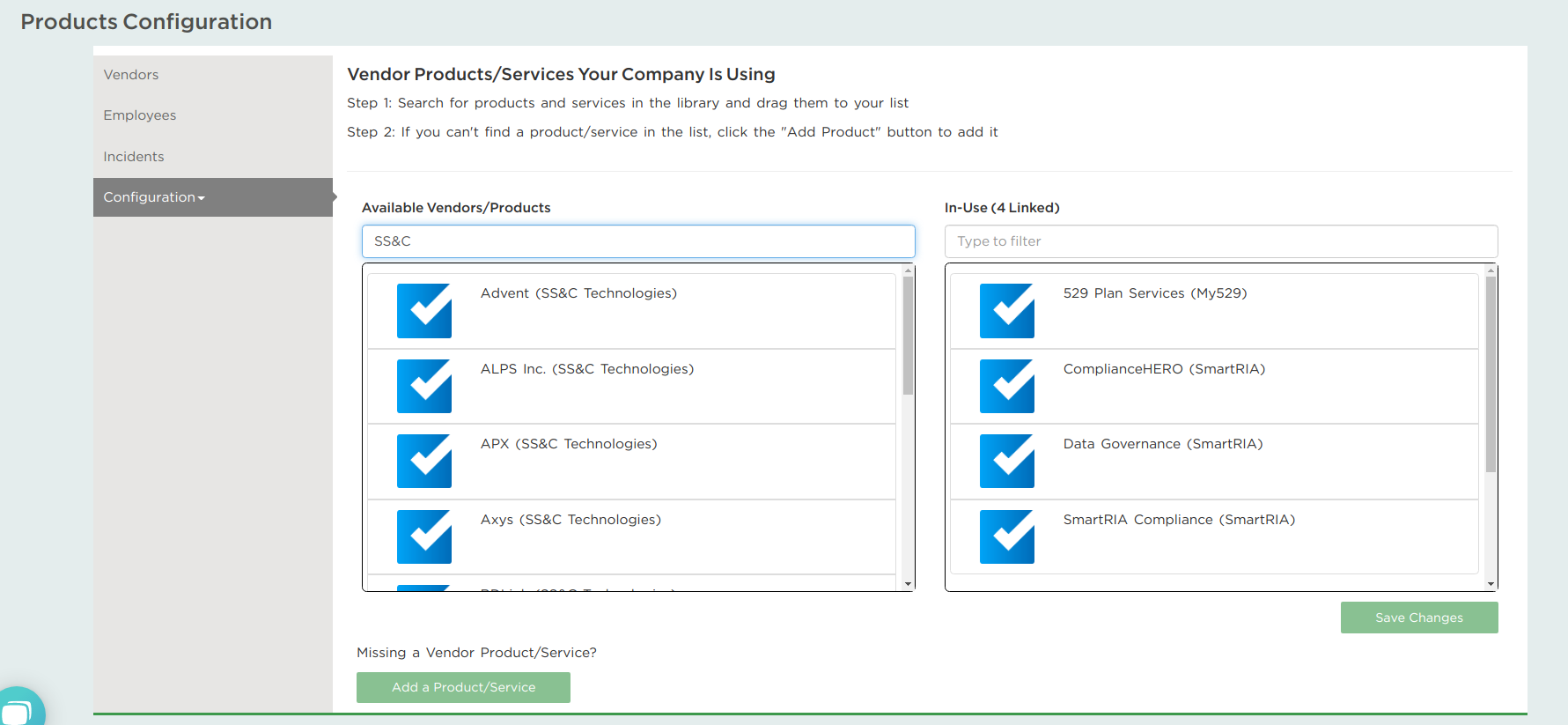 If you don't see a product, you can add one. Click "Add a Product/Service" at the bottom of the page.
Products and Services are organized under Vendors. Vendors can have multiple products. For example, SS&C is a vendor that has multiple products, including BlackDiamond and ModestSpark. To add a product, first type the Vendor name. If a vendor with that name exists in our database, the name should appear in a dropdown list, and when you click the name, the other fields should populate with data. If the vendor does not exist, you can enter the other information now.
Then add the Product name and information. Note that adding a Product here will add that product to your company's products in use.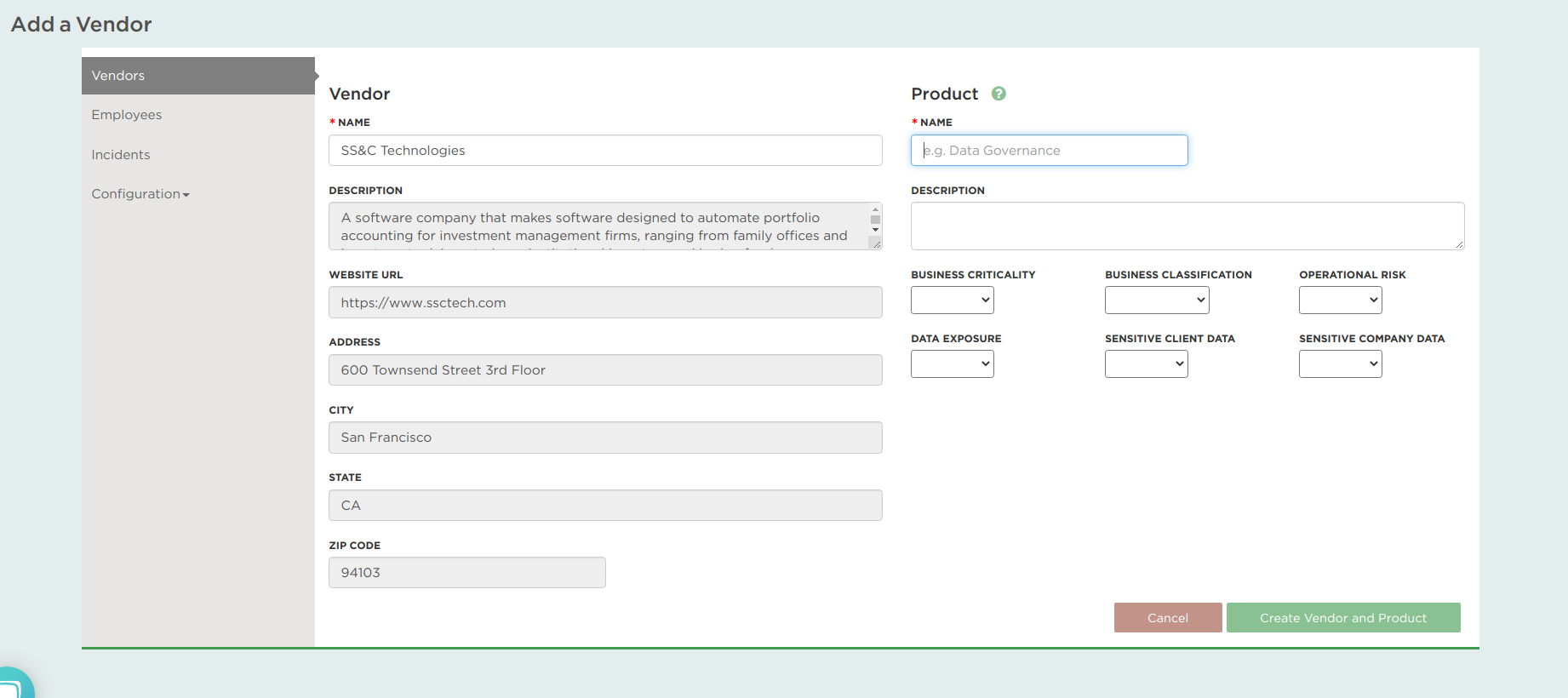 Vendors
Return to the vendor page. From here you see the list of Vendors your company is using, and below each vendor you see a list of the products you use from that vendor. Click on a vendor name to view more detailed information about that vendor.
From the page for an individual vendor, you will first see a Brief page, which shows information like vendor address, important links, and which products you use. Clicking on the tabs will allow you to view and add documents, annual reviews, notes, and incidents for that vendor.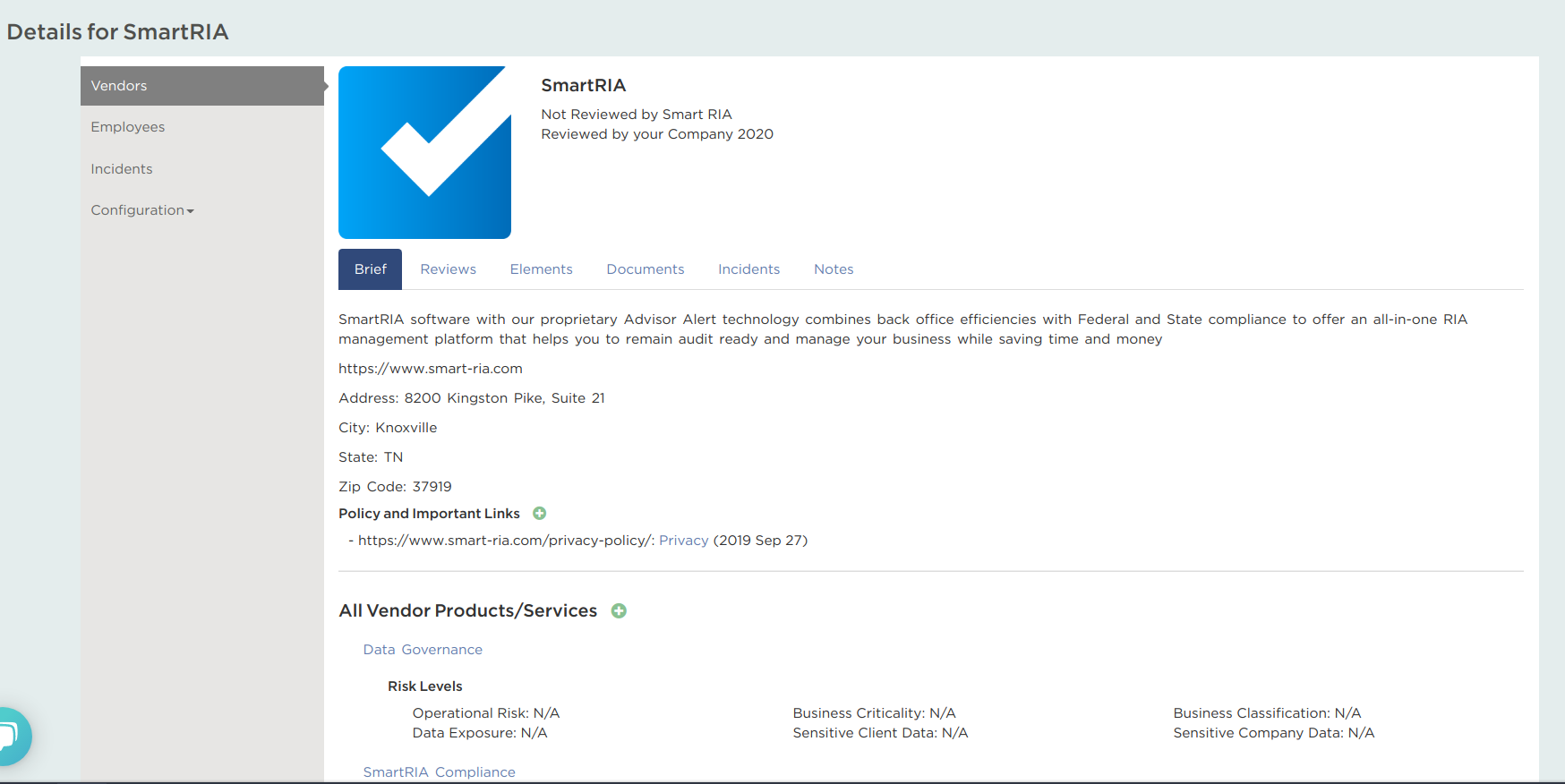 The Elements tab allows you to view a list of data types (like sensitive client data) that the vendor stores or has access to, and the ways that vendor protects your data. If you want to change this, you can go to a products page and change the elements for that product. Return to the vendor Brief tab and click on a product name.
The Products page allows you to add documents and links that are specific to a product.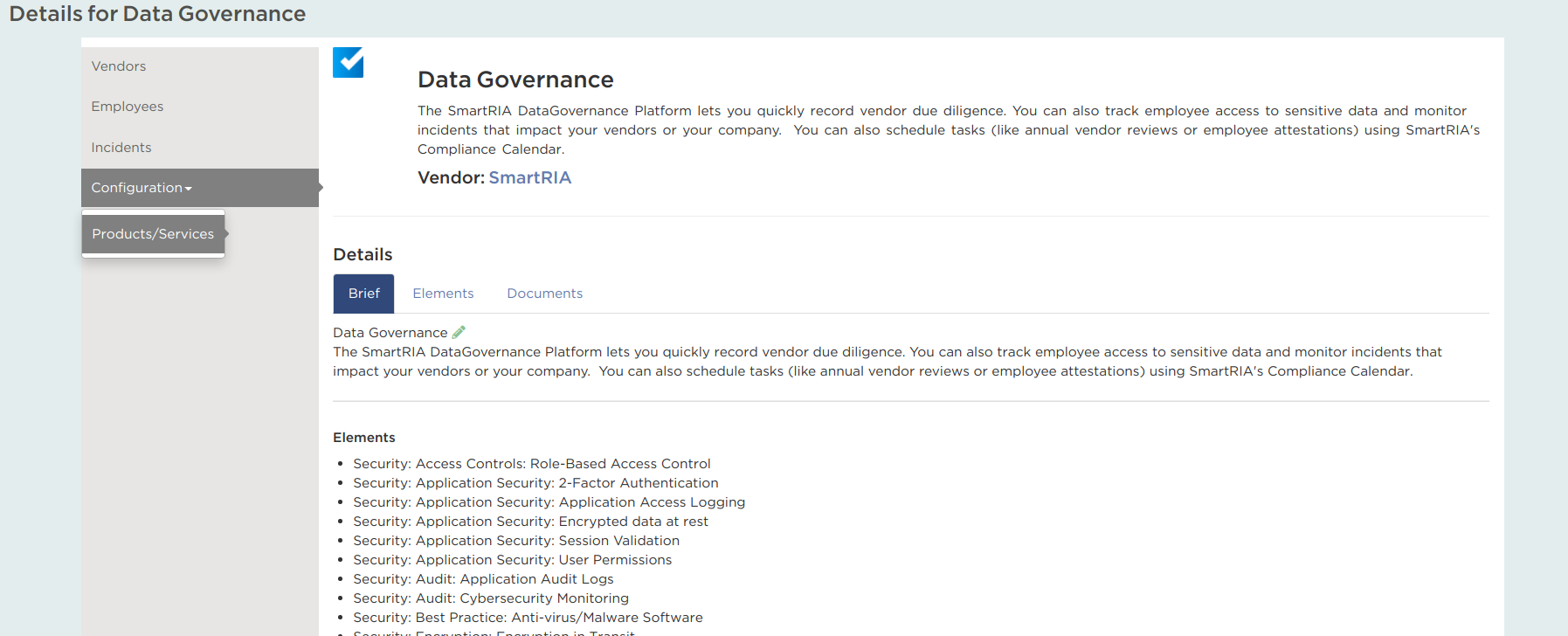 You can also update elements from the elements tab using a drag and drop interface. Be sure to save your changes.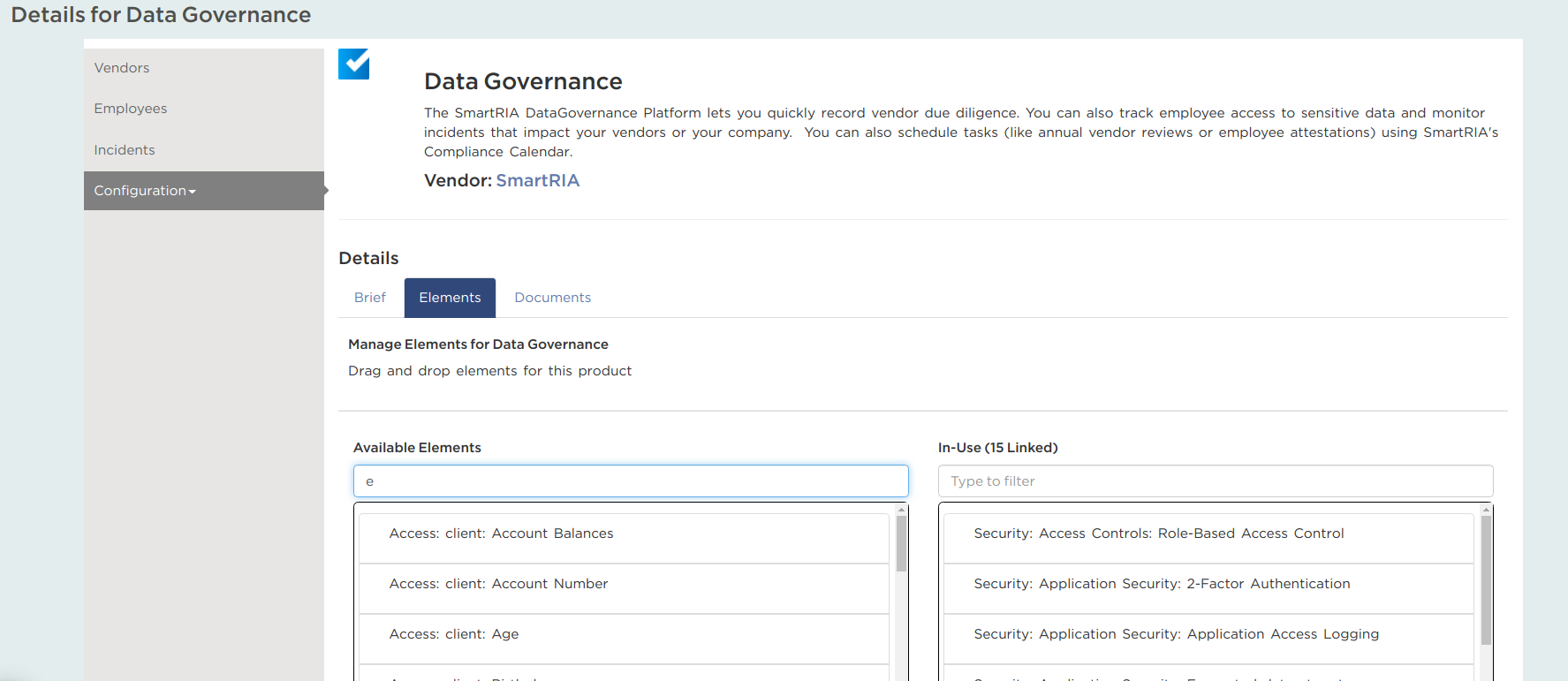 Employees
From the Employee Page, you can view and create reviews, documents and notes for for an employee.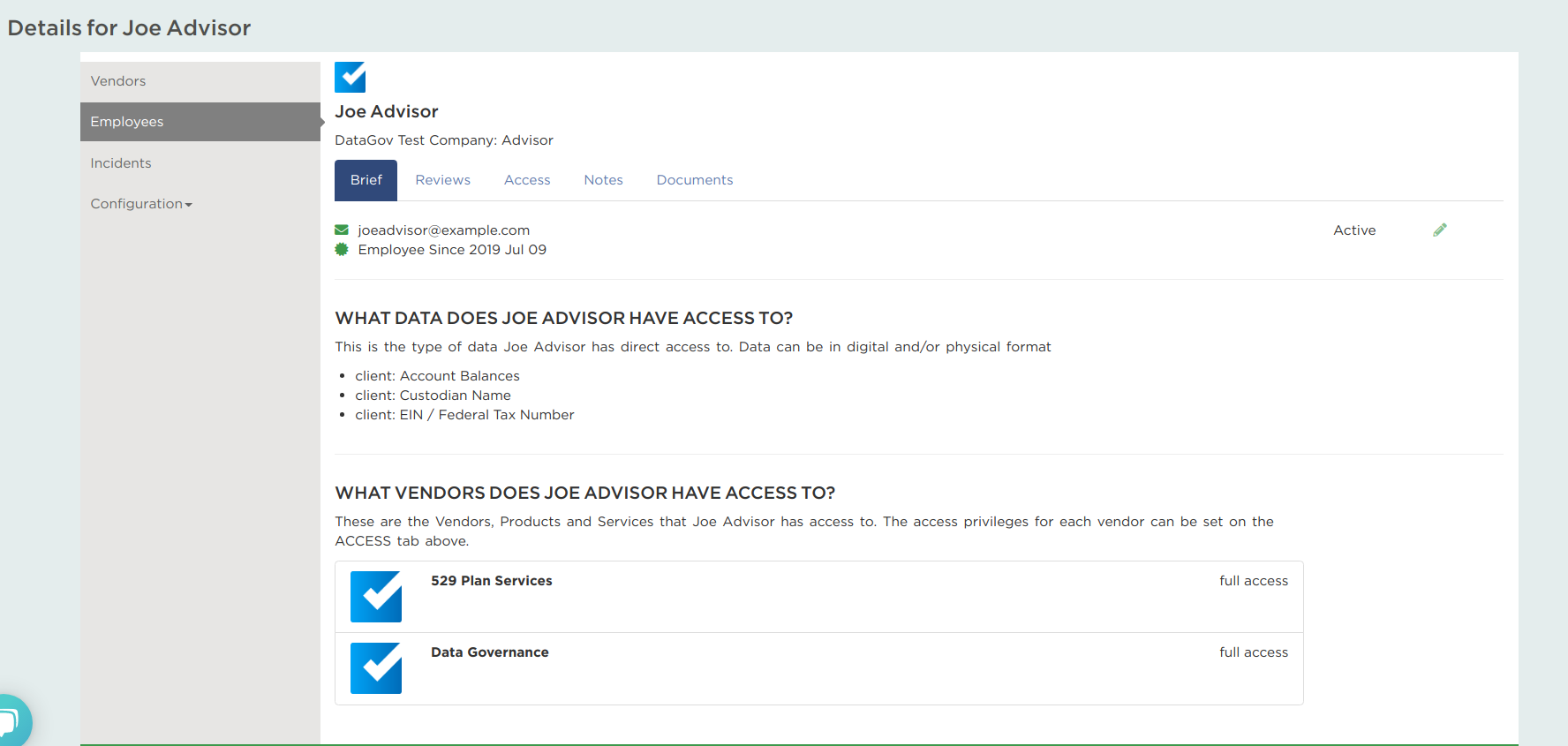 You can also track employee access to data by clicking the Access Tab. From the Access Tab, click "Link Products and Services". Using the searchable drag and drop interface, select any vendors the user has access to. The employee Brief tab will now show these products at a glance, and the Access tab provides additional information about the data types the employee has access to. You can also set access levels from here.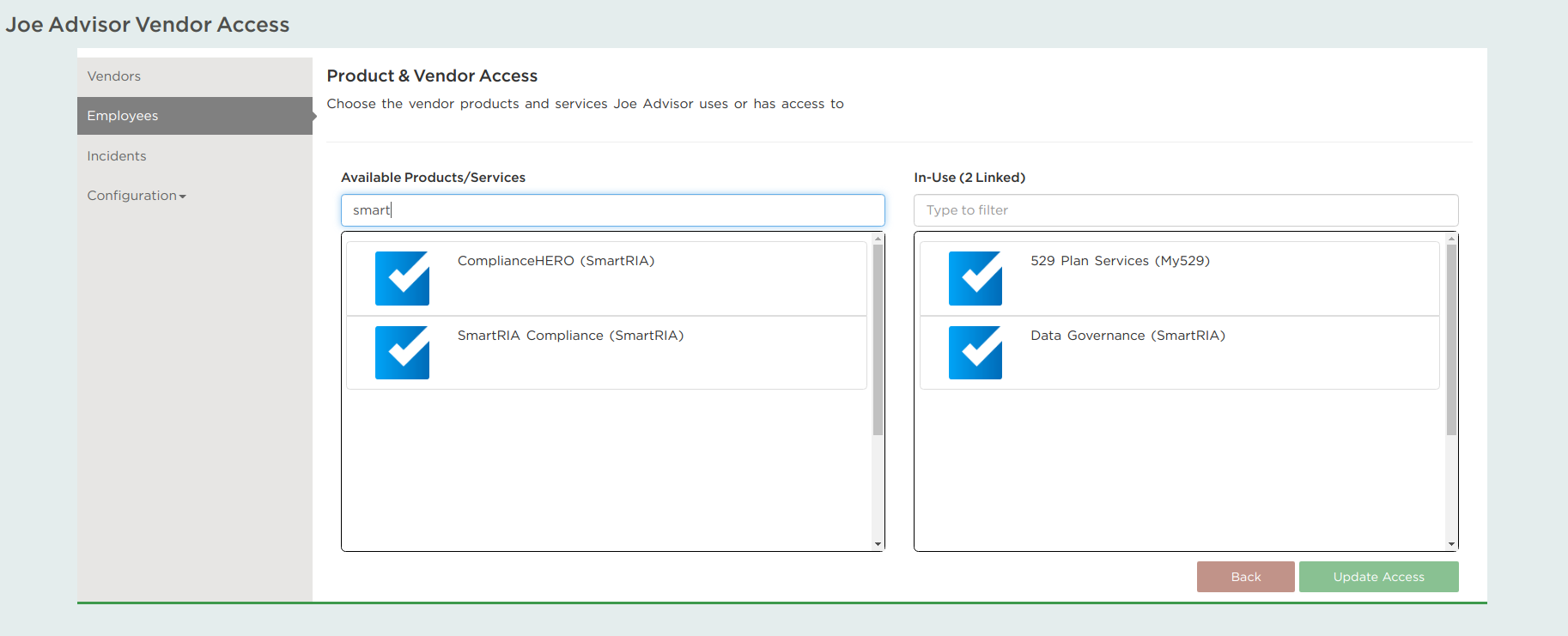 If there is anything that we are missing, or if you have any questions, please let us know. You can always contact us at support@smart-ria.com, or with the small chat window in the lower left corner within SmartRIA.