When you no longer want to require form completion for certain tasks
Roles: CCO, Compliance, Compliance Support
If your firm has task workflows that include completing forms, and you no longer want to require form completion for certain tasks, you can edit the task to remove the form requirement.
Editing the task
Step 1: Review Current Task Assignments
Go to Compliance on the navigation toolbar and select Master Calendar.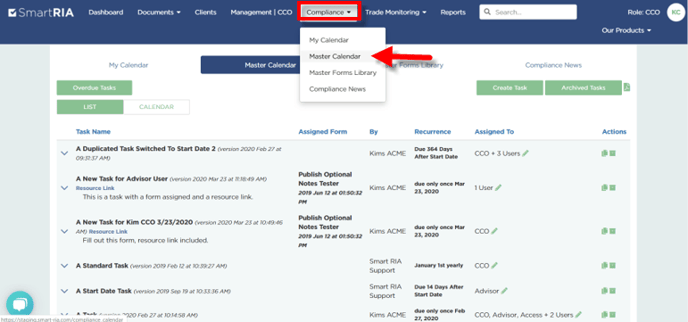 Find the task you want to edit.
Tip: Only tasks in draft status are editable. If you want to edit a published task then duplicate the task, edit, remove it from draft status and archive the original task.
You will want to make a mental note of the following:
Are there people who have been assigned the task who haven't had time to complete it yet? (i.e. the task is overdue)
Do they need to complete the overdue instance of the task to maintain your firm's compliance?
Step 2: Remove the form
Click on the pencil icon in the far right column of the task to open the edit screen.

Click on the drop-down arrow for the Form Assigned field, then scroll up to the top and select the blank option.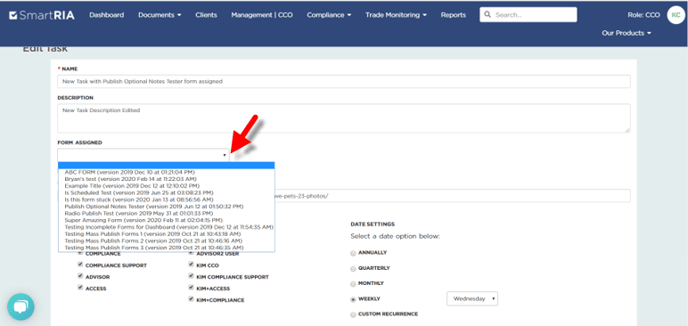 Click the Update button to save the changes.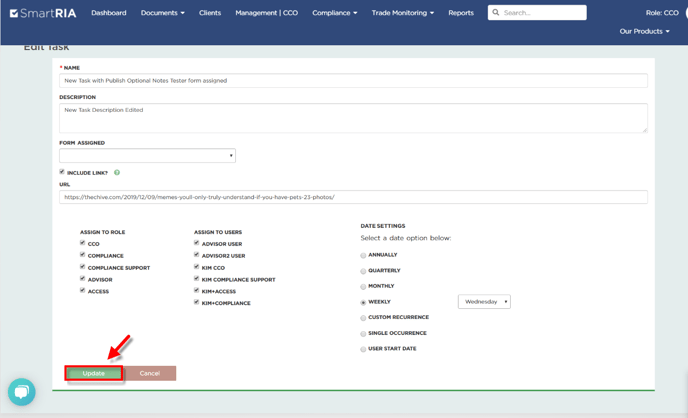 The task is now edited.
Note: You will need to remove the task from draft status to publish.
If you want the form to be available for completion, but not required, you can use the Quick Access Forms feature.